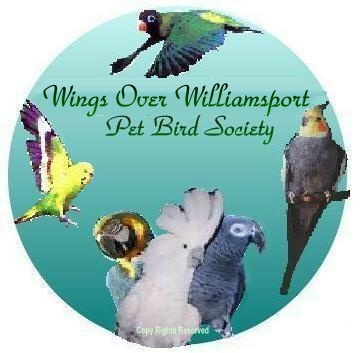 CONTACT US
@
wingsoverwilliamport@yahoo.com
This is our general contact email and does not go out to all group members as with our Yahoo group list. This email is not checked daily.
You can also contact the founder directly @ WOWPBS@gmail.com
Or you can call 570-484-7108 and leave a message.


Wings Over Williamsport
Pet Bird Society

Lycoming County, PA. and Surrounding Areas
Please note that our contact number is 570-484-7108. Leave a message and someone will return your call normally between Monday and Friday unless it is an emergency.
[We are not limited to Lycoming County]

We are a small, non-profit group dedicated to the welfare of avian pets and psittaciformes in the wild; and to responsible bird ownership through education and example. Our members include people who share their homes with one or multiple birds, as well as responsible breeders. Our members may also be people who simply have an interest in the world of those fascinating parrots, and those who hope to have an avian friend one day.
We do not have a rescue facility, but we do have a foster and adoptive home program for parrots and birds in need. We are continually fine-tuning a rigid criteria for fostering and adoptive homes. We support rescue, rehabilitation, and re-homing efforts; shelters, and conservation projects.
Please join and contribute your time and energy.

~What's New At A Glance~
2012 has been a year of change that will hopefully lead to more change that will benefit the community. We've had some new members come into our group that have brought new energy and resources. We have participated in events at Calico Creek Pet Store located in Mill Hall PA, and also Puglsey's Pets. Calico Creek invited us back for another learning event on Dec. 1st. Going into the new year we are hoping to create programs that will bring more members in and more interest in our group.
Along with some smaller birds that are currently in our foster care program, we have assisted in finding homes for 23 parrots and birds, and aided in the transportation of seventeen from one state to another since the Fall of 2010, at times in cooperation with other parrot rescues. These were birds that did not come into our program because we were able to line up communication between the person needing to re-home their pet with someone who wanted to adopt and we assisted with our adoption questionnaire, advice, and mediation.


PET TRUST FORM

Available through Wings Over Williamsport is a detailed trust form for people with any pet who would like to set up arrangements for their pet after they are gone or temporarily unable to take care of their pet [s]. We all want our pets to end up in good hands. Contact us for information. Please note that to make use of this form you will have to go through your own legal means to put it into effect.

Our next meeting:
When: We meet the last Saturday of each month, but we do reschedule to accomodate holidays.
We are currently looking for a new meeting place and will be meeting in our homes temporarily.Contact us for that information. Note the new email information.

Be sure to join our Yahoo Group to keep updated on what is going on~
Being part of the email group does not make you a physical member of Wings Over Williamsport Pet Bird Society. Contact us for information and a membership form.

Find us on Facebook now! www.facebook.com/wingsoverwilliamsport"


You are visitor #


DISLCAIMER
It is our goal to educate, advise, and provide resources and services to our members and the general public. We promote the necessity of cleanliness, proper nutrition, and socialization of avian pets. We do not encourage or endorse pet hoarding, and we do not support those who do. Although we monitor the homes involved with our rescue program, and the majority of our committed members have an open door policy with visitors, we can not control or monitor every person involved in some form with our group. Individuals associated with Wings Over Williamsport Pet Bird Society are solely responsible and liable for their own pet care.
We are not responsible or liable for people who misrepresent our group.