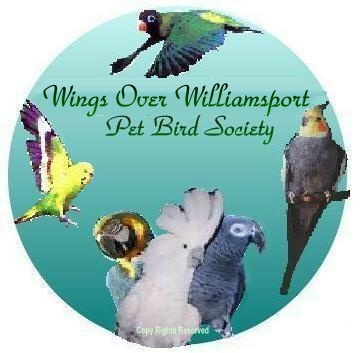 ~OUR OFFICIAL LOGO~
Overview:
We are a brand new, "hatchling" group dedicated to the welfare of avian pets and psittaciformes in the wild; and to responsible bird ownership through education and example.
Our flyers and cards are circulating the area. Pets 'N' You have been kind enough to hang our flyer in their store and hand out our cards to interested bird people. Snyder's Country Pet Food, located just down the road from Walmart and Pets 'N' You in Montoursville, also has our flyers and cards, and will be making bird products available for our group.
So, if you have a pet bird, would like to have a pet bird, or are simply interested in the amazing world of those flying creatures, please join us.
Egg-ceptional News !
We have a new, temporary meeting place that is large enough to hold our members as we are growing rapidly. We are on the look out for a permanent place to meet. It is very exciting to see the interest and growth of our group.

We are in the process of getting the paperwork together to file as a non-profit group. The advantages to this are many. There are tax exemptions, lower rates, and available resources for a non-profit group.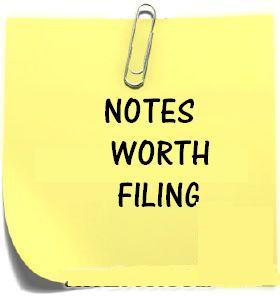 Spring is in the air and windows and doors will be open! We all like the fresh air, including our birds. We must be more aware, during this time, of those opened windows and doors; and take precautions so that our Fids do not find themselves soaring into the tree tops. Secure or replace old screens. Have a routine with opening and closing doors. Don't accidently walk out the door with Pretty Polly on your shoulder. Even a bird with his wings clipped can fly if they catch a good breeze.

Herbal Teas: In the wild, birds and parrots not only drink from natural water sources, they also lick the dew or rain from leaves and flowers. Herbal teas, without the added sugar or creamers, are a natural drink for parrots and provide Holistic benefits.
Did you know that an older bird can be subject toArthritis, Osteoarthritis, and Gout? Paths to relieve pain include keeping your bird from being overweight, proper perches of different sizes and shapes, toe nails should be kept from overgrowing. And, exposure to natural sunlight helps metabolize Vitamin D and Calcium which promotes bone health.
Curly Tail? A curled tail on a Macaw, Conures, and other long tailed parrots most often indicates a lack of moisture. Use warm water to spray or rinse the tail feathers daily and in about a week, the curl should be gone.
Insects and Molasses: Granulated molasses can be bought from feed stores. It kills ants and other insects, but is not harmful to birds. If you have a crawling bug problem in your home or aviary, this is a safe way to deal with it without harmfull fumes and toxins.
More Safety Tips and Security
Never leave your parrot unattended outside in his cage or otherwise because parrots are escape artists as you probably already know.
Don't leave them in a screened in porch unattended. A would-be thief can easily cut the screen to take your FID.
Make your home a difficult target for thieves. Outdoor lighting, alarms, deadbolts on your door. You might even want to keep a lock on your parrot cages while you are away.
If you go on vacation and have someone to come and take care of Polly, alert the police that you will be away and that you have exotic birds. Some police departments offer a vacation-watch.
Don't advertise to would-be thieves. Placing a bird cage near a window should also be accompanied by blinds or shades. During the day, a sheer curtain will obstruct the view, but at night when lights are on, close those blinds.
Keep a list of special characteristics of your bird. Keep a list of what she says, her band number, and anything else that will identify her from all the others like her. Take pictures of your bird from all angles.
Birdy Bulletin & Classifieds
List your bird related item here by emailing us the information @ wingsoverwilliamsport@yahoo.com
Membership
We have a yearly membership fee. These fees go directly into the group's treasury and are pro-rated per quarter for members joining later in the year..
$24.00/YRLY per member, $30.00/YRLY per household Membership fees are due at the first of the year, or when enrolling. This fee can be paid in installments.

This newsletter will be updated as new information becomes available.
Meeting Schedule & Details

Lovebird baby at 3 days old. He could fit on a dime.
Time: Our next meeting will be: April, 2008 @ 3pmWe will meet the last Sunday of each month, unless otherwise noted.

Location: 722 First Ave. Wmspt. This is a block west of the Wmspt Hospital between High St. and Louisa St. If you need more details, contact Peggy via our group email or her personal email if you have it.
Location is subject to change as we look for a permanent meeting place.. Bring a folding chair,or lawn chair, for yourself.
Topic: "Undtermined at this time"
Refreshments served. Bring a snack item to share.
Meetings will be rescheduled in the event of bad weather.
Sale Table: At each meeting, there will be a table for raffle and sale items. If you have a used cage or other supplies, toys, books, etc. and would like to place it on the table, bring it along with a price tag.
| | |
| --- | --- |
| This cage is just a picture and not available. | Our goals is to get to the point that members can find much of what they need for their FIDs through the bird group, whether it be toys, cages, other supplies, and even a new FID! |
If you would like to sell your item and keep the profit, or donate all or part of the profit to the group, either is fine! It's all about helping each other out and it is perfectly fine to get a little $$ for your item. You might even swap with someone.Be sure to put a tag on it with the price and either your name for yourself, or WOW for the group.
If it does not sell, take it along home and bring it back next time.
You can also list the item in this newsletter under Birdie Bulletin & Classifieds.
Fund Raising Projects
At our first meeting in January we began a 50/50 cash raffle which will end with our May 2008 group meeting and the proceeds will go to the winner and to WOWPBS.
Tickets are $ 1.00 each. You may buy as many as you want.
We are planning a head for fund raising events such as having a stand at craft fairs and other activities like this. A vendor's pop-up canopy and tables are available through Peggy H. So if you hear of an event in your area, be sure to let us know. Contact Elisabeth.
Any crafters out there? Please plan to donate items you handiwork and your time for these events. And, if you have any bird related items from books to perches that youwould like to donate to be raffled off, let us know.
If everyone helps out here and there, the burden will not be on just a handful of people.
We are always looking for new idea!
How big is our nest egg?
Our nest egg are the funds raised that support our group, whether it be through membership fees or fund raisers.
You might ask why our group needs money?
Funds are needed for the group so we can eventually rent space for our meetings, buy printing material for our newsletters, brochures, other printed material, postage, business cards, raffle tickets, food for snacks during our meetings, and much more.
Right now the founding members are financing everything until we take flight.
Funds will also be needed to offer to special speakers, and to finance our foster home program once we have take off and full flight.
As we grow, we will find other needs for our treasury funds.
Our treasury is managed by two people, but over-seen by all founding members.
Bird Talk Magazine Subscription, Magazine Discounts - MagazineLine.com Discount Magazine Subscriptions

Our Home Page

Wings Over Williamsport Pet Bird Society

Http://pennparrots.tripod.com

You may contact the following founding members [the people behind the scene] through the email address above unless otherwise noted, or their phone numbers.

Elisabeth R, Fund Raising, co- Treasury, Organizational, photogragher.

Christine M, co- Treasury, Organizational.

Jackie M, Organizational, co- secretarial, coordinator, species profiler.

Shawna R, Organizational, Foster Program.

Peggy H,-Founder, Foster/Adoptive Program, Organizational, Web Site Design and Management, co-secretarial coordinator.

Each of these people intertwine with responsibilities.